From: Jocelyn Hodgson
When it comes to shopping for toys it can be rather a dilemma. To find
something that is suitable, enduring, educational and just the right thing
for the child in mind is quite a feat.
Why not give something that you have made? Quite simply, you might
answer that you do not know how to make toys.
Perhaps not, but just imagine how it would feel if you did. The joy of planning what the best gift would be, the satisfaction of having made a quality toy, the excitement of giving the gift, seeing the wonder in your child's eyes as they open that wonderful gift that you have made.
What amazing feelings. They can be yours. Fun Wooden Toys clearly explains step by step how to make each project. With the knowledge gained in this book you will know which tools to use, exactly what materials you need and most importantly, what to do with them all to complete your chosen toy.
What would the children in your life like?
A pull along duck

A Car

A rocking horse

A train

A spaceship

A helicopter
These, and others, are all within your range with Fun Wooden Toys You Can Make. Perhaps jigsaw puzzles that relate to your child personally would be appealing. With these instructions you can do it. You can turn any picture at all into a jigsaw puzzle.
If you feel that you need a step by step guide to help you achieve the satisfaction of creating your own wooden toys, then Fun Wooden Toys You Can Make is for you.
If you already know how to work with wood, but just need a little creative stimulus, maybe ideas for a project, then Fun Wooden Toys You Can Make can provide just that.
You will know how to custom make so many different wooden toys, perhaps you might even turn it into a profit making enterprise. You never know, with the price they charge for wooden toys these days, it could be quite profitable.
This book is a terrific bargain. Whether you only make the toys for friends and family or decide to turn it into a money making venture, Fun Wooden Toys You Can Make will get you started on one of the most satisfying hobbies around.
Order your copy now and choose your first project. Have fun and enjoy yourself. I know the children will when they are playing with the toys that you have made for them.
To your success in toy making
Jocelyn
Only $17.00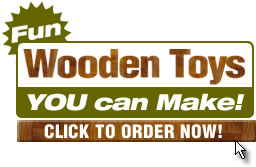 INSTANT DOWNLOAD!